2010
12.20
The New Fidelity song Setting Sun opens up the second scene of the newly released Lawrence Trilling indie film "Group Sex". The scene unfolds in the beginning of the movie where the main dude is at a bar and sees the girl of his dreams. She takes off on her Vespa and he's chasing her through the streets to track her down. Mean while our song Setting Sun is blasting away. Nice!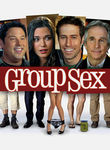 The film debuted at Sundance we think, and is now available at Netflix.
Here's the synopsis of the comedy:
Herman has a weakness for strip clubs. Donny has a thing for condiments and Tiffany is a newly celibate martial artist. These are Andy's new friends after he unsuspectingly follows his dream girl into a sexual addiction recovery group. At first this seems like the best possible news! However, Andy's professional and personal life begins to unravel as he deepens his ties to this lovable, but damaged group.
This hilarious comedy was written and produced by Greg Grunberg and features a star-studded cast including Henry Winkler, Tom Arnold, James Denton, Kathrine Narducci, and Lisa Lampanelli.
Andy's search for love leads him on a journey of self-discovery that is hilarious, painful and "touching"!
Our song Setting Sun is available here.